Statue of St. Catherine of Alexandria, Ile-de-France or Normandy, early fourteenth century

Beautiful statue of St. Catherine of Alexandria, recognizable by the broken wheel of her martyrdom she holds in her left hand. In accordance with traditional iconography, the saint is shown trampling a king, like the statue of Andrew Beauneveu.

The work is typical of French Gothic workshops of the early fourteenth century, marked by its contraposto showing a research of elegance that will culminate in the International Gothic, and the development of draping accordingly: the beak folds on the stomach, and the large folds falling from left to right and breaking on the feet. This drapery is reminiscent of the Virgin of Jeanne d'Evreux in the Louvre.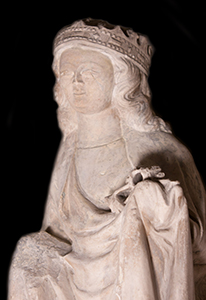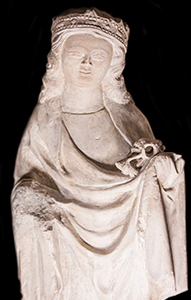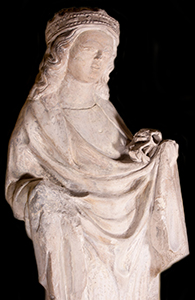 Statue restored from several parts reassembled. Some small gaps have been filled.
Missing right hand, which probably held a sword.
Uneven patina: remains of polychromy and restorations.

Material : Limestone
Origin : France, Ile-de-France or Normandy
Provenance : French auction sale
Period : second half of XV c.
Dimensions : height: 81 cm - width: 27 cm
Ref. : md-258
Price & Conditions : on request -