Superb small terracotta head showing a master hand and a great quality of expression, which certainly was part of a small bust, called "petite nature" or "demi-nature" (half-nature), as shown by a break at the neck and base of the bun.

The pouting mouth, the gaze on the left impress a thoughtful and serene character to the representation. The attention to render the furrows of the face, its forces through the muscles as much as the laxity, for instance the bags under the eyes is characteristic of the French art of the late eighteenth century, in a veristic movement that resists neoclassicism.

Artwork in the circle of Pajou or Jean-Baptiste II Lemoyne.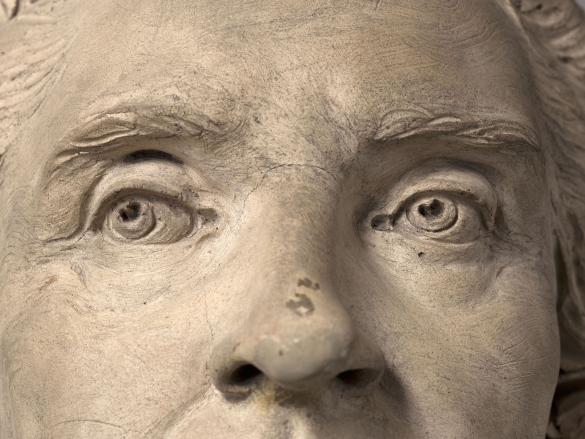 Bust by Jean-Baptiste II Lemoyne (detail)
Patinated terracotta.
Mounted on a base which enables the rotation of the head.
Total height: 18.9 cm - Head height: 12.8 cm
Ref. : md-266
Price & Conditions : Price on request -