These beautifully crafted sphinxes were melted on the model created by the "ornemaniste" (decorator) and cabinetmaker André-Charles Boulle for a clock now conserved in Germany, crafted between 1711 and 1716. This is the time of decoration works on the castle of Marly and especially the creation of the lead sphinxes on the terrace, which may be at their origin.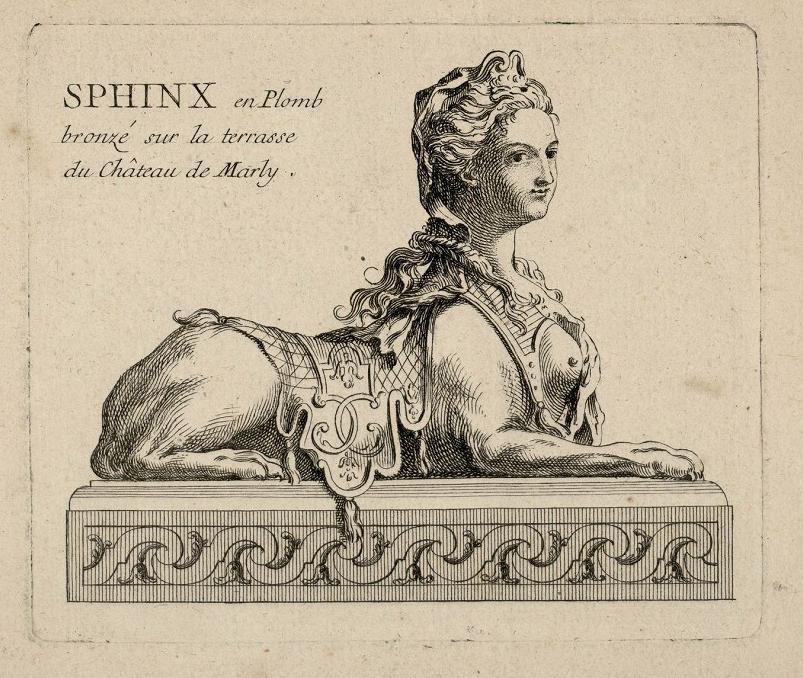 Sphinx of Marly (destroyed during the revolution)

The popularity of this motive treated in the manner of late Louis XIV style (or Regency) spread throughout Europe. It is found for example in Nevers faience (Musée des Arts Décoratifs, Paris). The model was a hit in Germany, in the circle of the court of Saxony at the time of Augustus the Strong, a great admirer of French art. The Meissen manufactory produced a small series inspired by lifesize statues carved for Dresden and the foly of Grosssedlitz, which still houses a pair of sphinxes where French inspiration is obvious, yet in a more rococo spirit.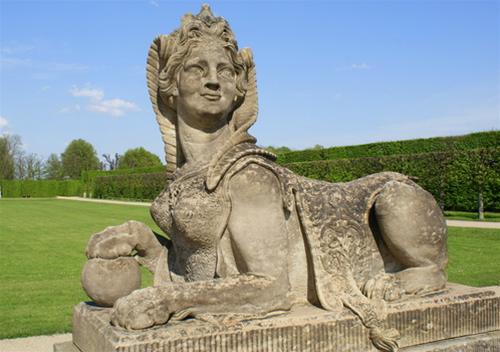 Sphinx of Grosssedlitz castle

Our pair of bronze figures was probably mounted as andirons, or as a clock support, like a similar pair in the Musée des Arts Décoratifs in Paris, all produced in the Regency era. Mounted on later bases, their patina has been modified as it is commonly practiced with bronzes, which required regular regilding, especially for andirons.

The exact similarity between our sphinxes and those produced by Boulle for his clocks allows the attribution to his workshop located at the Louvre, under his direction or his son's. We know that in addition to somptuous furniture, lighting and clocks the Boulle workshop produced more common works of Art such as andirons.

Similar sphinxes are documented as andirons or "presse-papiers" throughout the eighteenth century, for instance as andirons in the famous portrait of the Baron of Bezenval by Danloux in the National Gallery in London, or as paperweights on the portrait by Valade of the Marquis and Marchioness of Fontenilles playing music.

Andirons with similar sphinxes.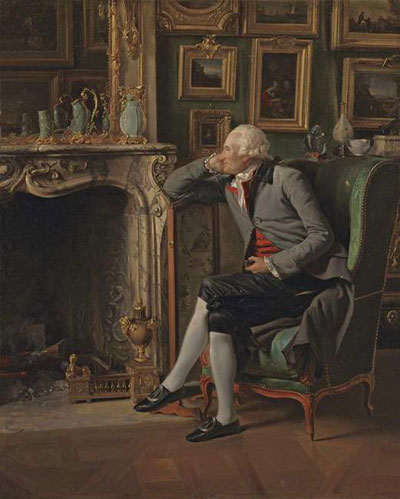 Chenet aux sphinges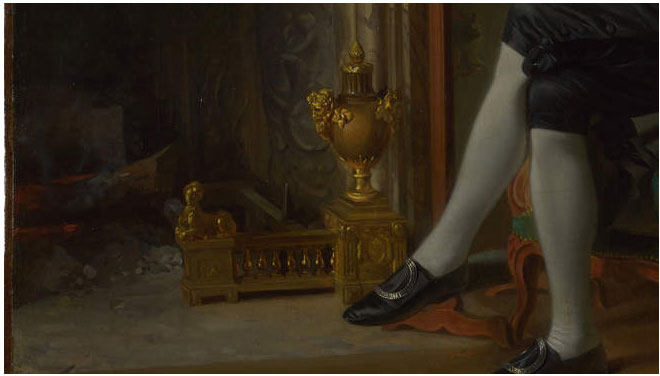 Détail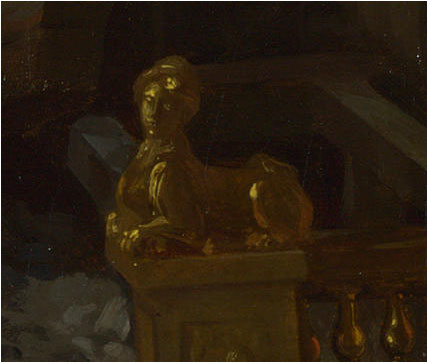 Détail
Currently mounted as "presse-papiers" on nice brass bases.
Composition: Patinated Bronze, brass mounts
Origin: France
Provenance: France - Art Market
Period: 1715-1730
Dimensions: Length: without base: 16 cm - with stand: 19 cm
Ref. : md-160
Price : SOLD - to be informed by e-mail when a similar item becomes available.