Superb pair of decorative bronzes representing children or putti as allegories of Arts and War.

If the dimension and the dialogue of the pair of small subjects is close to ornamental bronzes, such as andirons, the treatment both in modeling and chasing pleads for works of sculpture in itself.

The first putto, wearing a helmet reminiscent of Italian theatrical costumes, is perched on a globe. At his feet, accessories, including a violin and a bagpipe. The second sitting on a chest armor all'antica, is surrounded by weapons, sword, beam, shield decorated with a face of Medusa, and holds in his hand what appears to be a small globe and a branch. His helmet is adorned with the laurels of victory.

These figures take us back to the art of Jan Claudius de Cock (1667 - 1735) known for his allegorical groups of children most of which are considered lost nowadays. Several works recently identified (see below) are decisive in comparing the work of Cock and our groups, both in terms of staging and details, drapery, anatomy, face, attributes, etc.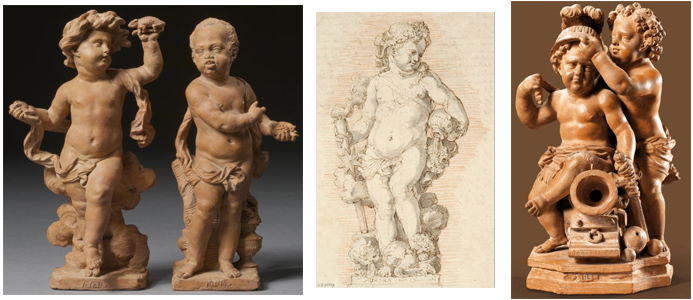 The casts are French, circa 1720. The little figure of the Arts is found on high quality firedogs of the Regency times, one in the Musée des Arts Décoratifs in Paris, associated with another figure. Our pair may thus be a false pair.
Perfect condition. The original bases are missing. Mounted on large blocks of black stone (provided to the buyer upon request).

Material : Patinated bronze
Origin : France
Provenance : France, art market
Period :c. 1720
Dimensions : H. 22 cm and 24 cm
Ref. : md-138
Price & Conditions : Price on request -