This beautiful applique statue show Saint John at the moving time when Jesus on the cross, speaks to his Mother and him by designating one to another. It was part of a group of the Calvary now unfortunately dismantled.

The savant drapery, a remarkable performance, and the elegant construction, show the hand of a great artist, without doubt the Nancy master César Bagard (1620 - 1709). Besides small size calvary groups, Bagard is known for monumental sculptures. His figures of the tomb of Jean des Porcelets now in the Musée Lorrain compares remarkably with our small St John.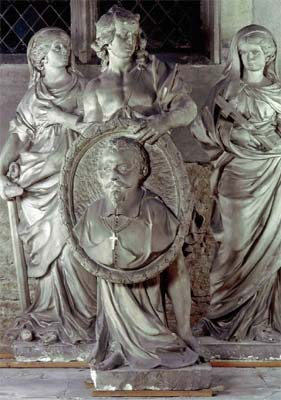 Saint-John wears a tunic, held under the chest by a cord, and a coat pulled over the front, whose light fabric comes alive in a very baroque way. Yet this beautiful drapery reminds us of Medieval Art, and particularly the art of the first half of the thirteenth century that drew on the antique taste for sophisticated draperies, animated by many vertical folds (known as "muldenfaltenstil") : by its proportions and sinuous silhouette, you'd think of a French Gothic ivory.
This should not surprise us, because the art of the first half of the seventeenth century drew to the same sources. We find in the Art of Laurent de la Hyre a similar taste for complex and vertical draperies, as in the beautiful figure of the Christ in the Noli Me Tangere painted for the Grande Chartreuse.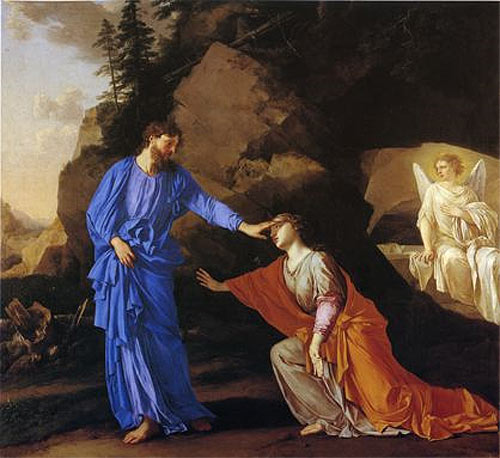 Hand and left forearm are added, in a different carved hardwood, probably as part of a posterior restoration. This applies also to the lower base. Some "worm holes", some filled at the start of the left arm. Small shocks and gaps, overall very good condition.
Composition : Carved boxwood
Origin: César Bagard, Lorraine, France
Period: Second half 17 th century
Provenance: French Art Market
Dimensions: Height: 28 cm - (36,50 cm with stand)
Ref. : md-153
Price & Conditions : 6000 euros -